Fully Automatic Insulating Oil BDV Tester Series IIJ-II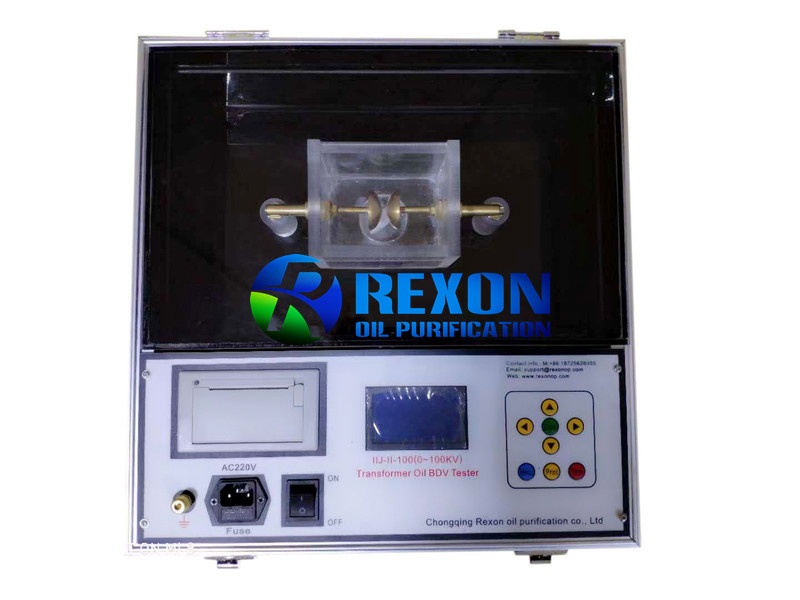 Application
IIJ-II series fully automatic oil tester is apply to test the insulating oil's dielectric strength,from 0 to60KV, 80KV, 100KVBDV value testing. It is designed as per the requirement of IEC156 Testing Method of Insulation Oil Medium Strength, which via proper programming, has got functions of auto boosting, step down, stirring, display and print out. After breakdown of oil medium, HV break off will operate within 10 seconds to enable an auto isolation of control system partly; this effectively safeguards the personnel security and equipment safety.
Technical Information
1. Power Supply: 220 V AC, 50Hz
2. Output Voltage: 0-100KV AC
3. Capacity: 2.0KVA
4. Rate of rise of test voltage: About 2 KVA/S
5. Pressure testing speed: 3%
6. Break down sensitivity : <2KV
7. Wave form distortion: ≤3%
8. Time of break down: ≤10ms
9. Working environment: temperature: 0 to 40℃,
humidity:< 85% (Relative Humidity)
10. Storage environment: temperature: -20 to 60 ℃, humidity:< 75% (Relative Humidity)
11. Working Altitude: < 1500 meters. (If over 1500m, it can be customized)
12. Test cell: Glass, volume 300 to 500 ml, with protective cover and stirrer.
13. Electrodes: Stainless steel spherical 36 mm diameter/hemispherical 25 mm radius, 2.5 mm gap as per IEC-156.
14. Initial stand time of oil sample: 180 seconds
Intermediate stand time of oil sample: 60 seconds
String time of oil sample: 60 seconds
Number of consecutive test: 6
Dimension & Weight
Before packed: 475 × 485 × 485 mm
Net Weight: 45 KGS
After packed: 490 × 495 × 495 mm
Gross Weight: 50 KGS